Podcast: Download (61.0MB) | Embed
Subscribe: Apple Podcasts | Android | RSS
Lauren Mancia is back and for a whole series we are calling The History Cafe Visits the Met!  We recorded several podcasts live at the Met Museum looking at specific items in the collections ranging from the Gothic Chapel to the Temple of Dendur to a little tiny doll's bed used for mystical contemplation (this will be coming up soon!)  For today, we have our discussion of several objects in the Gothic Chapel at the Cloisters Museum.
The Gothic Chapel provides a great space for considering what Lauren refers to in the podcast as "The Gothic Moment;" a point in time when a great deal of Medieval culture began to shift – theological understandings, political power, artistic culture, economics, trade, and law just to name a few.  In the podcast, we at least touch on many of these aspects and how they interact with one another.  To do this, we focus on a series of specific objects on display at the chapel, starting with the tomb of Ermengol VIII, count of Urgell.  If you happen to be at the Cloisters, we'll indicate where we're standing and you can walk around with us, but if not, the images are here below in order of their mention.  All of the images are from the Cloisters website and clicking on the image brings you directly to the original site where they have more detailed information about each object (and where you can totally zoom in for excellent detail.)
For this podcast, I would recommend a good plate of bolets and canelons (perhaps canelons filled with bolets.)  They aren't exactly a "Gothic Moment" of food – and really there isn't such a thing since we have almost no recipes from that century, although we know something about what they ate generally.  Canelons are a Catalan version of Cannelloni…tube shaped pastas stuffed with any number of things including ground chicken, beef, fish, spinach, or my favorite, wild mushrooms (called Bolets in Catalan).  This might seem an odd choice for such a wide reaching tale as we have about the twelfth century, but for me pasta, spinach, and ground meat call to mind both Jewish and Islamic influences in Spanish food, while the particularly Pirennean bolets invoke the small mountain kingdoms maintaining their own sense of identity (as any mushroom collector can tell you…this has been going on for centuries…)  They're served with bechamel sauce and cheese on top.  Delicious.
IMAGES:
Tomb of Ermengol VIII, Count of Urgell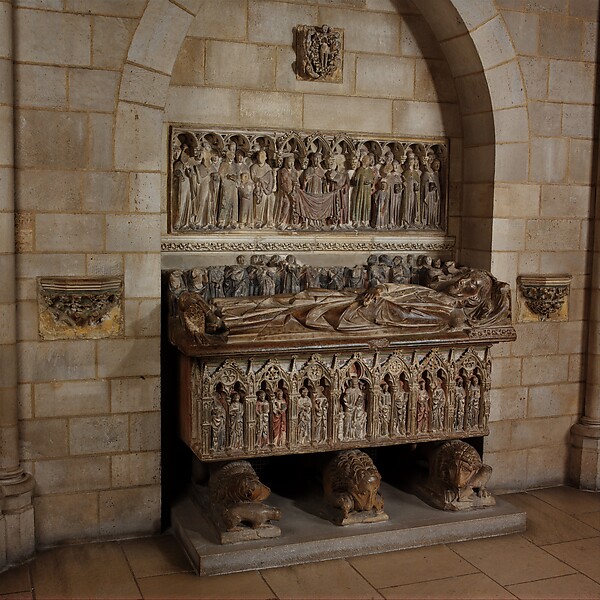 Tomb Effigy of Jean d'Alluye, Crusader
A Couple of Examples of the Stained Glass –
Adoration of the Magi and Saint Nicholas
For a bunch more images of the Stained Glass, look at the Full Gallery